M A I N | N E W S
Listen to a GASKAMMER cover song of Krew i Honor by the Polish legend HONOR!
"Wir nehmen Tod, Wir teilen Tod Aus " 5 way NSBM Split CD is OUT NOW by Black Metal Cult records!!





Black Metal Cult records proudly presents:
GASKAMMER (usa) / 
XILENTIUM (usa) / 
88 (bul) / 
TÖTENKREUZ (rus/usa) / 
VISION OF ELDERS (rus)
"Wir nehmen Tod, Wir teilen Tod Aus " Split CD

tracklist:
1. GASKAMMER - Forward to Victory
2. GASKAMMER - Jewification of the World
3. GASKAMMER - The Awakening of Our Spirit
4. GASKAMMER - The Fire of War
5. GASKAMMER - Untermenschentums Invasion
6. XILENTIUM - Claim Our Countries Back
7. XILENTIUM - Purity Through Mass Genocide
8. XILENTIUM - Kill Every Jew That You See
9. XILENTIUM - Exterminate the Semitic Race
10. 88 - Extermination of Them
11. 88 - War Is the Answer
12. 88 - Abuse of Our Culture
13. 88 - The Enemy on Your Door
14. TÖTENKREUZ - Burn Their Synagogues
15. TÖTENKREUZ - We Salute, Sieg Heil
16. TÖTENKREUZ - Degenerate Dead Jews
17. TÖTENKREUZ - Sieg Heil Comrades
18. VISION OF ELDERS - In the Twilight of the Woods
19. VISION OF ELDERS - Heavenly Blacksmith
20. VISION OF ELDERS - On the Wings of Freedom

Executive producer: Demogorgon 88
This release contains 20 tracks in total and 
79 minutes of NSBM/RAC/PAGAN music. 
The CD comes with a colored 8 pages Booklet, 
In limited edition to 500 copies.

All tracks were composed and recorded 
In the time frame 2014-2017. 
This is first release ever for the bands 
TÖTENKREUZ and VISION OF ELDERS. 
New line up and new material recorded for 
XILENTIUM after long time of silence, 
Celebrating 10 years of existence. 
GASKAMMER with five brand new tracks.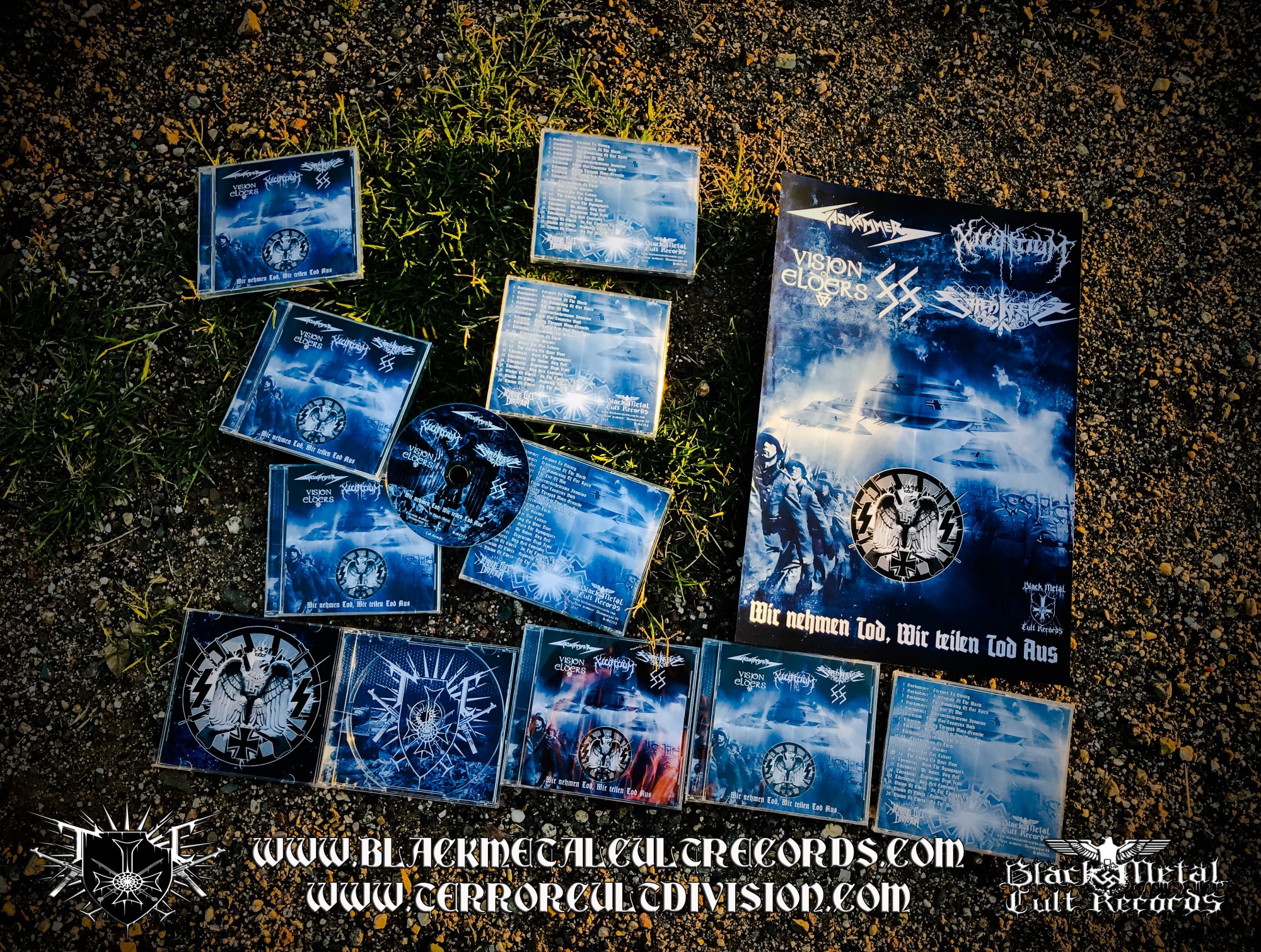 Listen to a new GASKAMMER track from upcoming Split CD with 88, XILENTIUM and TÖTENKREUZ!

New release has been planned by Black Metal Cult records: 88, GASKAMMER, XILENTUM and TÖTENKREUZ will join forces in a Split CD release entitled 
"Wir nehmen Tod, Wir teilen Tod Aus ". 
GASKAMMER became a member of  TERROR CULT DIVISION - A NSBM union of the bands 88, GASKAMMER, XILENTIUM, HOLDAAR, TÖTENKREUZ, GODCIDER, 
WEI&szligEN NUR EINEN TAG and the labels BLACK METAL CULT RECORDS and ACCLAIM RECORDS. Video statement with some of the TERROR CULT DIVISION members: