M A I N | N E W S
Black Metal Cult records proudly presents: "The Final Solution" BOOK! Uncensored and unabashed interviews with 88, Gaskammer, Xilentium, Faethon, and more!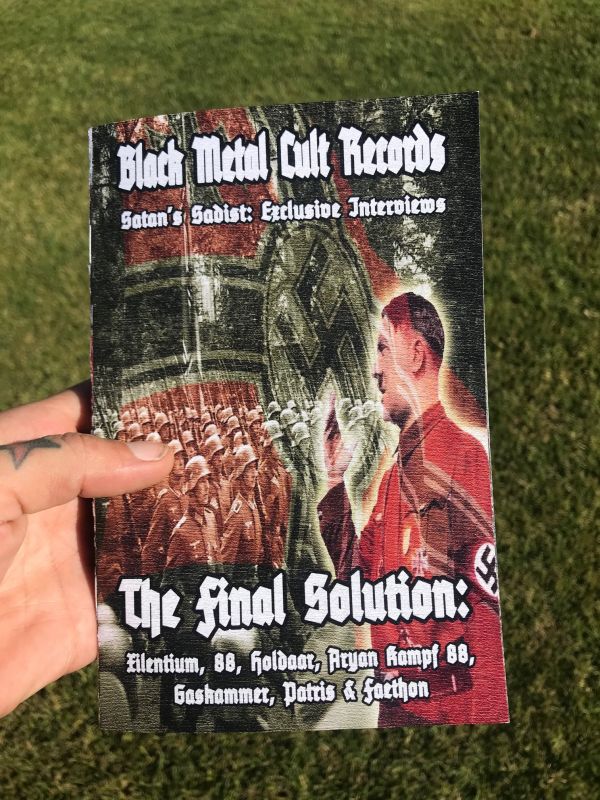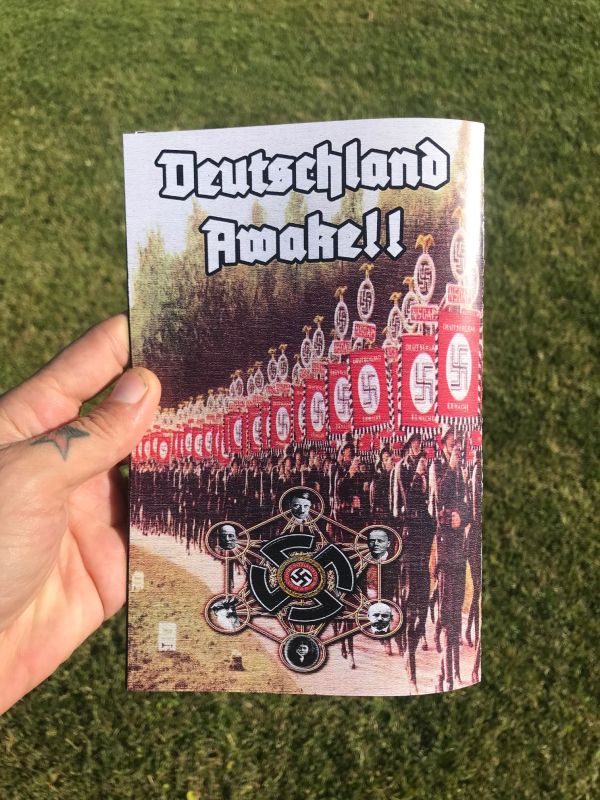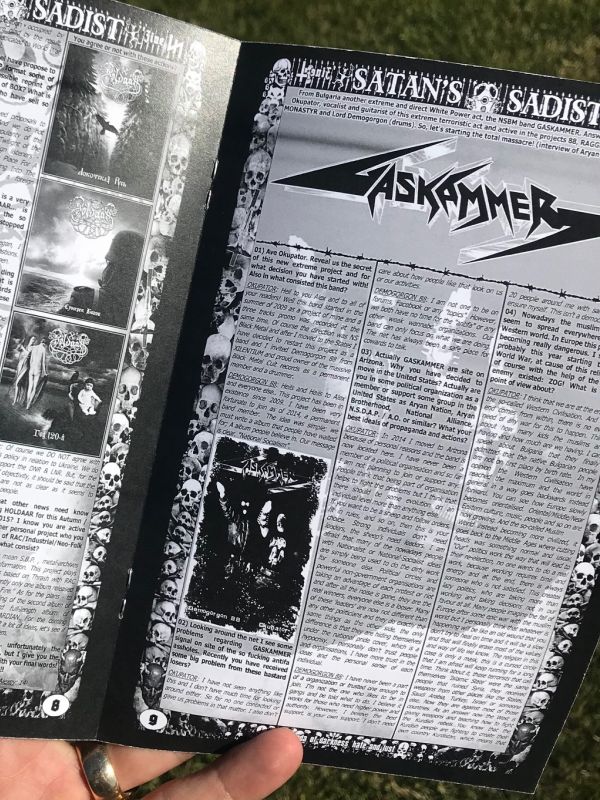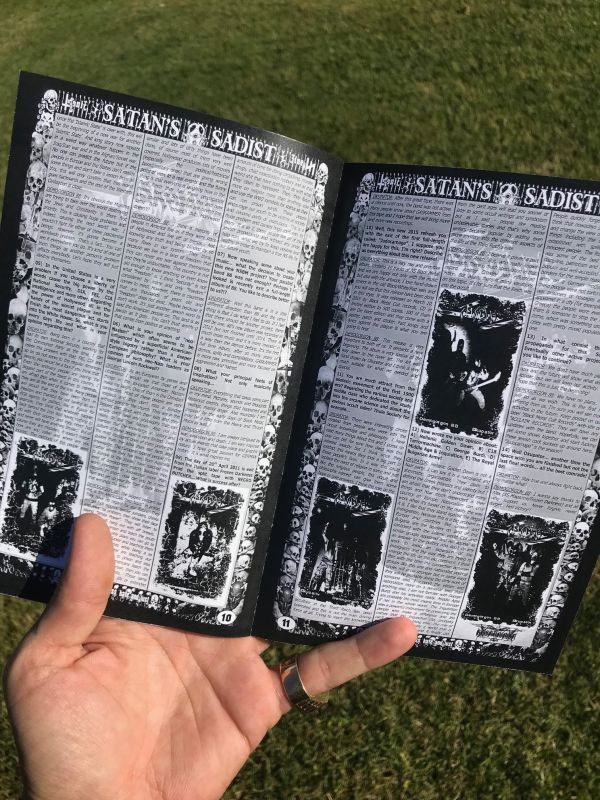 A rare set of Uncensored & Unabashed interviews from the bands: XILENTIUM, 88, GASKAMMER, HOLDAAR, ARYAN KAMPF 88, PATRIS & FAETHON. Originally published in the "Satan's Sadist" Magazine (Italy), between The years 2014-2016. Very extensive 24 pages! www.blackmetalcultrecords.com
GASKAMMER/NEGROBUTCHER Fake release, beware of bootlegs! Do not spend your real cash on something fake, don't support greedy subhumans with your money!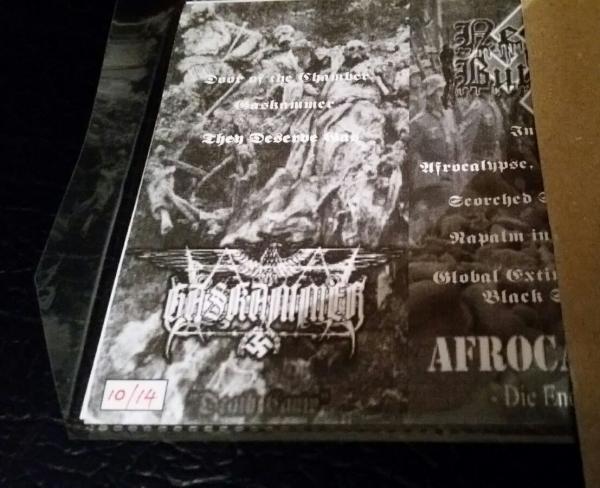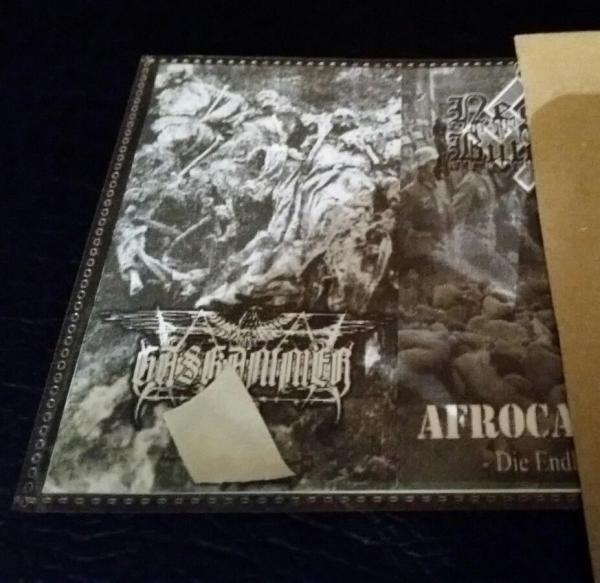 We discovered a fake GASKAMMER/NEGROBUTCHER Split release to be sold on E-bay by this Australian seller. Unfortunately it was too late, all of the copies are sold out now. This is a fake CD-r, limited to 14 copies and released by no label. Also nobody asked the bands either. After checking some available information, we came to the conclusion that this fake release was made by the seller himself for quick cash. You can see the "release" on the photos above. If there is anything new released of bands like GASKAMMER or 88, this will be listed on the Acclaim Records website and in the websites of the bands: http://Gaskammer.AcclaimRecords.com | http://88.AcclaimRecords.com If the release is not listed on the Discography page of their websites, then this is a fake release (bootleg). We don't encourage people to spend their real money on something fake, because they own nothing in this case, while supporting greedy people who seems to grow at number in the Underground Black Metal fields nowadays.
GASKAMMER/WINTERCOLD - "Krew i honor/Time of Purity (A Tribute to Mariusz Szczerski)" Split 7" Vinyl ltd. 88 Out Now on Barbatos productions (Russia)!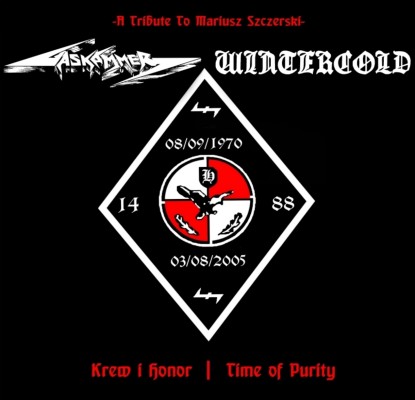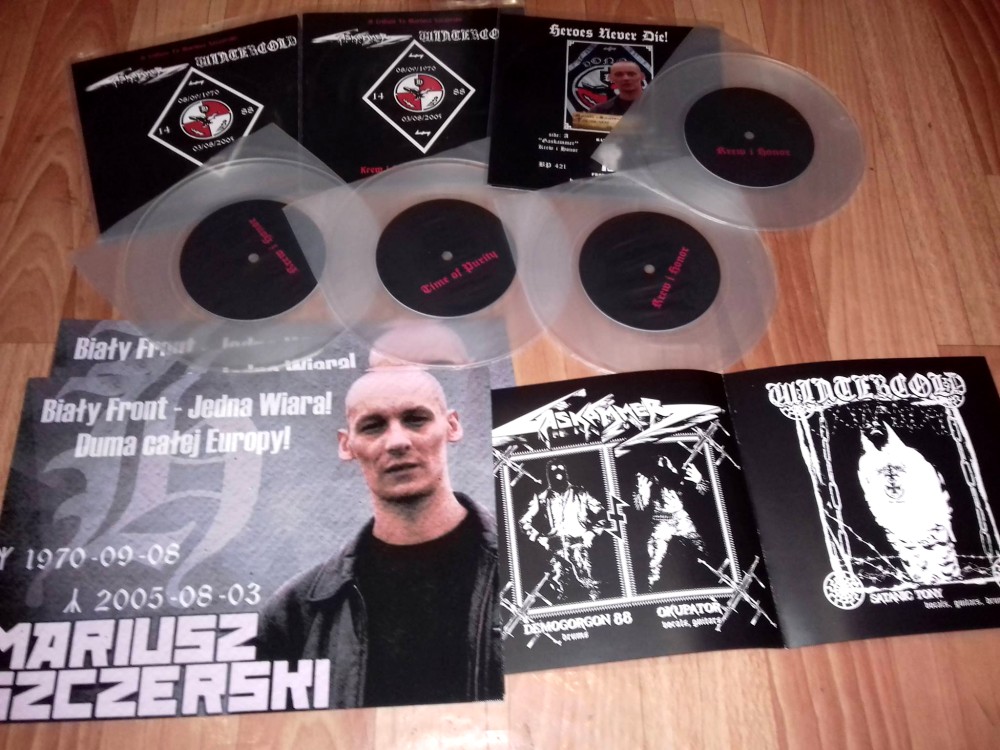 "Wir nehmen Tod, Wir teilen Tod Aus " 5 way NSBM Split CD is OUT NOW by Black Metal Cult records!!





Black Metal Cult records proudly presents:
GASKAMMER (usa) / 
XILENTIUM (usa) / 
88 (bul) / 
TÖTENKREUZ (rus/usa) / 
VISION OF ELDERS (rus)
"Wir nehmen Tod, Wir teilen Tod Aus " Split CD

tracklist:
1. GASKAMMER - Forward to Victory
2. GASKAMMER - Jewification of the World
3. GASKAMMER - The Awakening of Our Spirit
4. GASKAMMER - The Fire of War
5. GASKAMMER - Untermenschentums Invasion
6. XILENTIUM - Claim Our Countries Back
7. XILENTIUM - Purity Through Mass Genocide
8. XILENTIUM - Kill Every Jew That You See
9. XILENTIUM - Exterminate the Semitic Race
10. 88 - Extermination of Them
11. 88 - War Is the Answer
12. 88 - Abuse of Our Culture
13. 88 - The Enemy on Your Door
14. TÖTENKREUZ - Burn Their Synagogues
15. TÖTENKREUZ - We Salute, Sieg Heil
16. TÖTENKREUZ - Degenerate Dead Jews
17. TÖTENKREUZ - Sieg Heil Comrades
18. VISION OF ELDERS - In the Twilight of the Woods
19. VISION OF ELDERS - Heavenly Blacksmith
20. VISION OF ELDERS - On the Wings of Freedom

Executive producer: Demogorgon 88
This release contains 20 tracks in total and 
79 minutes of NSBM/RAC/PAGAN music. 
The CD comes with a colored 8 pages Booklet, 
In limited edition to 500 copies.

All tracks were composed and recorded in the time frame 2014-2017. 
This is first release ever for the bands TÖTENKREUZ 
and VISION OF ELDERS. 
New line up and new material recorded for XILENTIUM 
after long time of silence, celebrating 10 years of existence. 
GASKAMMER with five brand new tracks.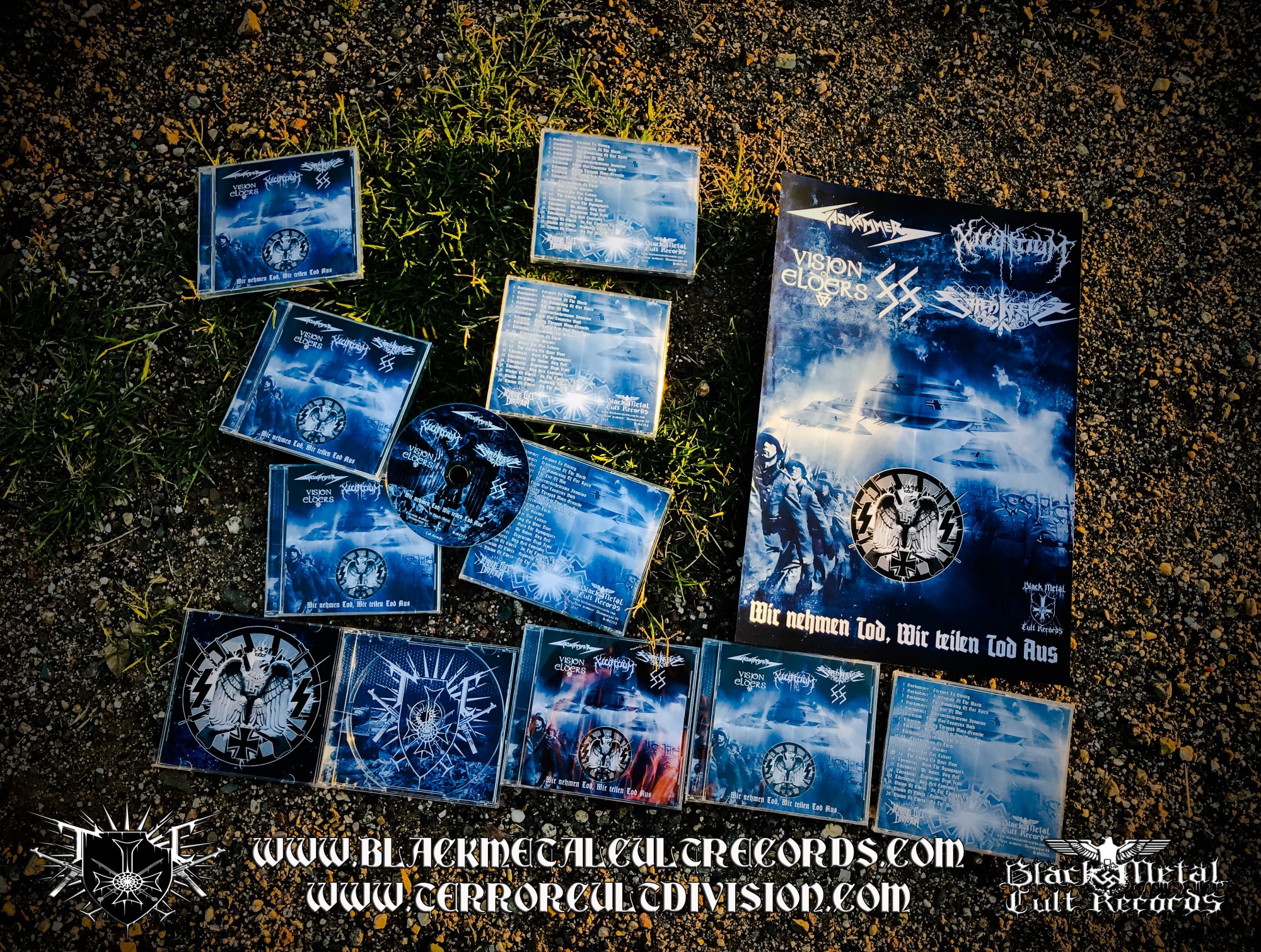 "Soldiers Of The Eternal Winter" - The Official Tribute to ABSURD Out Now by Azermedoth records (Mexico)! Listen to GASKAMMER cover version of ABSURD's "Pesttanz".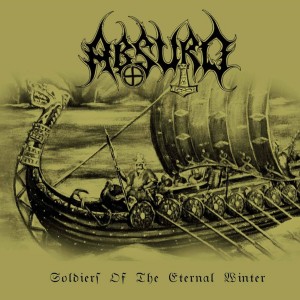 GASKAMMER - "Judocarnage" title track appeared in "Hammerstorm Vol.IV" NSBM/Black Metal compilation by Barbatos productions.
CD limited to 200 copies + special edition (only 28 copies) CD + poster + set of cards. More details in the Releases section of the website.

GASKAMMER - "Burn the Symbols" promo track from December 2014 was included in "Me Ne Frego!" NS compilation by War Kommand productions,
released on CD-r limited to 150 copies.

25 January 2015 - GASKAMMER is back in the Black Metal War!!!





The first thing is that Gaskammer is back with a new line up:
Okupator (vocals, guitars) and Demogorgon 88 (drums).
Five years ago the band started as one-man project in Bulgaria
and now Gaskammer is an American NSBM act,
located in Phoenix, Ariozna.

In December 2014 we recorded two promo tracks that will be
released later at some point. Also the composing/recording
of the first full-length album entitled "Judocarnage" are in progress.

Note that this website is the only official page of the band and if
for some reason appear facebook page and other pages like that
in social media and other web platforms, know that no one of the
band members is behind it.

Official embroidered logo patch will be released soon
by Black Metal Cult records. Keep an eye of the label's page
for any official Gaskammer releases and merchandise.

There are photos from 2015 band photo session in the "Info"
section of the website. Image files of the updated logo design
can be found in this section as well.

If you want to contact the band, use some of these e-mails:
info@acclaimrecords.com or blackmetalkult666@yahoo.com
Printed 'zines can get in touch for possible interview, 
don't waste time to write us asking for free copies of our
releases, we are not that type of a band.

Our first album "Judocarnage" will be released later on CD
and tape format as well. Also additional tracks
(apart from the album ones) might appear in compilation
or split release later as well.
Keep cheking our website for more updates and news.

88's first full-length album album "War Eagle" is now available
on CD, limited to 300 copies through Winter Solace productions.
A tape version, limited to 200 copies will be released very soon.
You can order it from the label's website.

Again it's a matter of days that the first official 88 t-shirt will be
released as well. Limited edition to 50 only by the Mexican 
Satanic Records.
The label is taking pre-orders right now, contact them via e-mail
if interested in purchase.

EINTRETEN IN DIE BLACK METAL KAMPF!